So, Tuesdays and Saturdays, huh? What happened? Why didn't you post?
'See you Tuesday!' 'See you Saturday!'
You stood me up. (Again.)
O_O
Yes I did, and I am very sorry!
Wouldn't it be nice if I didn't have the memory of a goldfish when it came to my blogging schedule?! Because the reason I didn't post wasn't because things got crazy—they were actually pretty chill, comparatively—and it wasn't because I ran out of time or was so dead tired I couldn't go on without sleep…
IT WAS BECAUSE I FORGOT. (Again.)  
Like…who even does that…? Forgets their own blog. Their own blogging schedule. The days of the week?**
Here's a (gigantic) meme that suits this awkward turtle sitch: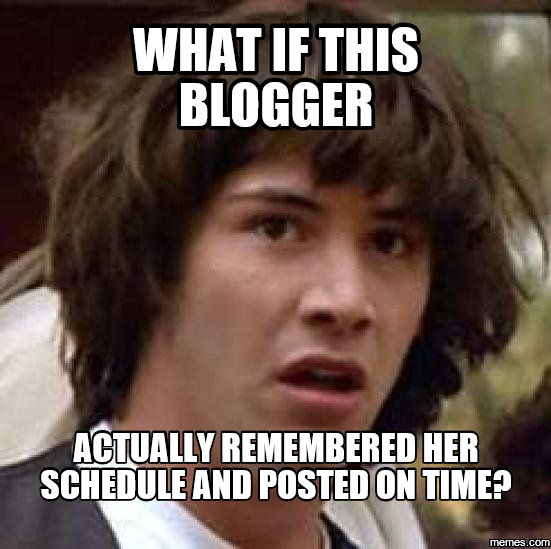 (WHO. KNOWS. Btw I love Keanu, so I really just had to give him recognition here…)
But I digress and once again apologize. No telling when I'm going to get it together, really…*smh*
Aside from that, do you know how difficult it is to just choose TEN COVERS???! I know you do…because you love books and YA books are just so beautiful it's almost a travesty not to favorite all of them and sort them into favorites of favorites, and by color, and by–or maybe that's just me?? 🙂
**Ok, totally guilty on that last one. My perception of time is abysmal (unless I need to calculate increments; I've been waiting here for 10 minutes. We've been playing for an hour. Usually spot on. Practically useless skill *cries*). Abysmal. It hasn't happened yet, but I've wanted to write 2012 for the date several times already this year. I am perpetually misplacing my days—oh, today is Friday??! Huzzah! …Oh, no, wait, it's only Wednesday. Boo.
So Maybe…my forgetfulness combined with my seeming inability to keep track of what day it is explains a whole lot?
~~~~~~~~~
I've already done a couple of serious posts here, so I thought I'd lighten the mood a bit with a lovely display of nerdy bookishness 😀 *_*
Y'all, in the YA world, the expression Cover Love exists for an extremely good reason: COVERS R BEAUTIMUS.
I am 1000% guilty of choosing a book based solely on its cover.
Me: Oooh, that looks pretteh. *grabs book*
Me: This artwork is magnificent! *grabs book*
Me: *glazes over at boring book cover* *doesn't grab book*
Moral: Book covers matter, yo.
Can I interject here and say that for some odd reason I really have the urge to speak like a pirate??! Sorry, guys, I dunno what's wrong with me…hahaha…ha…
Without further ado, I give you my Top Ten Cover Loves  (thus far) of 2017…and, next post, I'll be sharing my Top Ten Title Loves!
Top Ten Cover Loves, GO!
This cover is one of those that initially seems so-so, but the more you look at it, the more it draws you in with its subtleties. The lettering is killer, and the slight transparency is genius. I'm particularly fond of the water: it's like an oil painting *swoon*! And, my favorite favorite part? The blood ruby in the center of the flower. Love. We'll be able to get our hands on OBR soon–February 28th!
9. The Intuitives by Erin Sky & Steven Brown
The simplicity of this cover is alluring in its own right, but it's the dynamic of color–electric blue on black–that made The Intuitives wow me. Ombre lettering=bonus points. Cool symbols running parallel down the sides are the icing on the cake! Sadly we must wait until July 25th to read it T_T.
Very reminiscent of Throne of Glass, this cover intrigued me because it holds a great balance between intricacy and simplicity. Plus I'm a sucker for opal and anything opal-colored, sooo….*hugs book*. One thing I haven't figured out: what in the world is flying off of the blades/mask in the background?? Blood? Liquid magic dust?? I can't get a good view on my computer. Unless someone else knows and wants to share, I won't be able to find out until September 5th. Ouch.
We Are Okay is bursting with imagination, but it's the poignant sense of loss and uncertainty I feel whenever I look at it that compelled me to place WAO in my top ten. Also resonating with the clutter and gorgeous line work.
Zero Repeat Forever was, funnily enough, not in my original list of choices to pare down; I stumbled upon it whilst perusing the GR 2017 list one last time and couldn't believe I'd missed it. The dandelion caught my eye, and, again, ombre letters…decision solidified. The metallic sheen on black lends is evocative, and the lettering–dots, arrows, placement–is just brilliant. August 29th…it's only like, half a year…
Snowglobe? Check. Delicate and promisingly mysterious and white rose? Check. Gorgeous snowflakes ever-so-carefully placed on the inside of the globe at an angle? TAKE MY MONEY. I'm in love with the watercolor-esque flare going on as well. The plain lettering completes the look and gives off a feeling of sobriety. It's far off on my growing tbr…but the cover speaks to me.
I'm blanking on the art style here–impressionist?–but I love how this cover summons and disperses light across a girl who seems determined (but perhaps lacking confidence?) and reserved. I'm not sure about its placement on my list. Maybe it should be lower?? Regardless, I approve :). Coming August 8th!
3. breaking by Danielle Rollins
What I love about this cover is the implications. At once elegant yet sharp, the decision to focus on a single bottle with its lid haphazardly fallen to the side was an excellent one. The lettering is artistically severed by a beautifully broken glass, and, to complete the masterpiece, a phenomenal color scheme. Alas, it comes to us June 6th!! #winning #allthefistpumps
I could dance among these delightful little details…! And the symmetry. Spindle Fire gives off a sense of antiquity, grace, and charm–perfect for a (not) fairy tale. Grabby hands must wait until April 11th!
annnnnnnd……….
*Drum roll plez*
1. Traveler by L. E. Delano
I'm a huge fan of the nautilus (unashamed bias because I totally want to do this for Whispers & Murmurs!) shaping the whole of the cover, from the title to the ship…which is magnificent(?!). The dots are a nice touch, making the design pop. AND THE STARS, the galaxy-cloud-timey-wimey splendor! Gah. It's wonderful.
Ok, ok…so…which of these covers blew YOU away?
Have you found any covers that spoke to you and demanded your (semi-immediate) attention? So looking forward to hearing your thoughts!